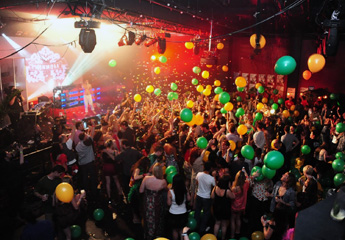 Day in and day out, but there is nothing like night out. For all party animals partying hard at night is the best way to spend it. Clubs, Bars, Discos, night parties or just enjoying at a friend's place is how teenagers would love to spend their time.
Most of the party lovers would like to spend their time dancing to tunes of various songs. A rocking party will be incomplete without booze, music and a gang of friends. If you are a woman and would to be surrounded only by girls for a party, try some ladies DJ parties. Many popular hangouts host ladies nights with special music and drinks. Hard rock cafes, exotic lounges or an open roof restaurant are other options if you love to spend time only with your circle of friends. A sleep over party at a friend's place while watching movies and munching on popcorns is also a fantastic way to spend time. If you do not plan to watch a movie some board games can keep you engaged, these will fill the environment with laughter and enjoyment.
A visit to a place like Las Vegas which is most glamorous at night is a fun filled experience. Enjoying at casinos and watching the mesmerizing shows is a sure try. Amsterdam, Paris, Rome, Los Angeles, London, San Francisco, Bangkok and Hong Kong are few cities which become alive when the light goes off and clock strikes midnight. Residing in these places or a visit to them is certainly a wonderful experience for night life lovers. Late night movies, vibrant bars, eye-catching dance shows, night cruise or tour are few things to explore in such places.
Though night life can help you relax, mingle with your friends or enjoy things which otherwise are not possible during day time, it has certain cons as well. Drinking and driving is one of them, and it is also a major cause for accidents. Another one is lesser time to sleep and thereby affect your biological cycle and health. Gender specific violence is also common in many places. Consuming psychoactive drugs can lead to various complications and ruin your normal living.
Hence, it is necessary to strike a balance between your enjoyment and health. Partying hard and neglecting your health always will cause long term damage to your health and relationships. Enjoy your night life but know where to draw a line.