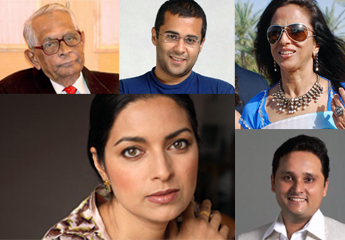 From the ancient sages who wrote epics like Ramayana and Mahabharata to current day famous authors who have gained fame worldwide, India has had a long list of authors who have books written on wide range of topics. Every author has a unique style of writing and generally writes on a specific culture, religion or may be strata of society, but of course we do have versatile authors as well.
We have tried to list few famous authors, each with a different writing skill, touching upon a different topic and catering to a different classes and age groups.
R.K. Narayan – All of us know the famous 'Malgudi Days' television serials and few of us must have even read the book. R.K. Narayan (Rasipuram Krishnaswami Iyer Narayanaswami) was a one of the best authors of his time. His work reflects fictional yet typical south Indian setups, mainly in the town of Malgudi. His books Swami and Friends, The Bachelor of Arts, The English teacher, Financial Expert received great response from readers. A recipient of Padma Vibhushan, in his 60 yrs of writing career, his books was published worldwide. R.K. Narayan also wrote a book on American culture – The vendor of sweets. Some of his other famous works are Grandmother's Tale, God, Demons and others, The Ramayana, The Mahabharata and A writer's nightmare. His books were mainly related to common man's day to day activities, humour and experiences in the same and some of his own childhood experiences hence were liked by many.
Chetan Bhagat –  Whether you are a book lover or one who runs away from books,  you would surely know Chetan Bhagat, thanks to  the famous Bollywood movies based on his novels. A multi-faceted personality, Chetan Bhagat is a novelist, columnist, screenwriter and a great speaker. His well known books are – Five Point Someone, One Night @ The Call Centre, 3 Mistakes of My Life, 2 States, Revolution 2020 and What India Wants. Most of his books are Indian Best Sellers. Within a short span he gained popularity owing to his unique style of writing, simple language and bond that he creates with his readers. His novels speak more of his personal experiences, student life, and love life and so on. Youngsters surely feel more attached to his writing as he showcases various aspects of youth's lives.
Amish Tripathi – Amish Tripathi is an author who dared to touch upon a fantasy of re-imagining the Indian deity – Shiva. His novels The Immortals of Mehulas, The Secret of Nagas, The Oath of Vayuputras, collectively known as Shiva Trilogy have become the bestselling books. The set of these 3 books itself sold to around 2 million copies. This trilogy has been translated in various regional languages and is enjoying great response amongst vernacular readers as well. His released and planned writing revolve around religious aspects but from a different perspective. We can surely look forward for few more bestsellers of this author.
Shobha De – Shobha Rajadhyasha popularly known as Shobha De is a well-known Indian writer and columnist. She began her career as a Journalist and founded three magazines – Stardust, Society and Celebrity. She explored social life of many celebrities and her writing revolves mainly around it. Few of her famous books are Spouse: The truth about marriage, Surviving Men, Strange Obsession, Small Betrayals, Sultry days etc. She is one of the famous authors who focuses mainly on the lifestyle of socialites and has a huge fan following for her books.
Jhumpa Lahiri – Jhumpa Lahiri, Indian American author, is well known for her short stories like Interpreter of Maladies, Unaccustomed Earth, Mrs. Sen's and novels like Namesake and the recent one The Lowland. Her writing reflects the psychology, behaviour, struggle and life of immigrants which is mainly drawn from her own experiences. Her simplicity of language and realistic picture of American immigrants makes her a widely read author. Lahiri has been a recipient of notable awards like O. Henry Award and Pulitzer Prize for Fiction. The famous movie The Namesake is based on her novel.