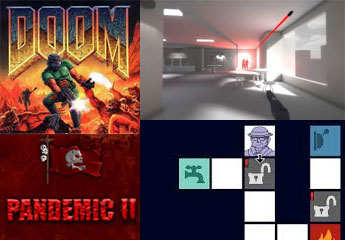 Online games are best source of entertainment as one need not worry about installation and occupying the hard disk space. Instead one can directly browse through some of the websites and play online games for free of cost and get on to the day. Let's review the best online free games till date:
Doom: An action packed game Doom, equipped with demons, and keycards is an online shooting game. The only con in the game is that it does not support mouse control for shooting.
Superhot: An independently developed first person shooter game was first released as a browser based online game in Sept '13. The player in the web version is unnamed agent which is out on a mission to kill the enemies and increase the ammunitions as he proceeds. In turn a single hit from the opponent can kill the player and restart the game.
Pandemic 2: In a world where everyone is striving hard to save the world, this game is an interesting turn wherein you have to design a virus or bacteria which can infect as fast as possible without being detected. The moment the root cause of the disease is detected all the countries hospitals will come into action to save the mankind.
No-one has to die: A game in which the player acts as the courier guy delivering to every employee in a company wherein a fire breaks out. The courier guy has the control to all safety controls in the company and he has to try to rescue everyone from the place. The turning point is at every level as one has to die and the player has to carefully listen to the preceding logs to understand what would be the mission for the next level.
10 more bullets: A game wherein every bullet on hitting the ship splits the ship into two. The aim is to hit as many ships as possible and in the process earn gold. The gold earned can be used to buy power which can increase the ammunition level.
Candy Crush: Game which gained utmost popularity in a short span through Facebook and is most widely played these days. The player has to cross each level by completing the mission by aligning the same color candies horizontally or vertically. One can also use powers to help to clear the level and earn maximum points.
Night Rider Turbo: An interesting game in which one has to drive along the motorway and also poke everything that comes along the way. The game continues even after you crash another vehicle with the wreckage car being driven by you. The background music makes the game more influential.