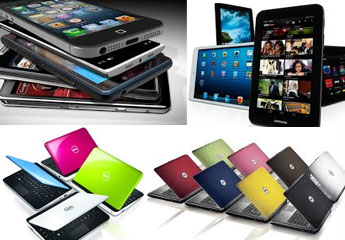 In today's busy schedule and lifestyle, one has to be in sync with work most of the time. Can we imagine a situation to miss on an email from the client which comes as an escalation? No. Even if we are travelling or are out of Office due to some personal reasons, being informed on what's happening at office would help sometimes. Let's review some personal gizmos which will help us to keep a tab on our respective official assignments:
Smartphones: The first in the list of personal gizmos is smartphones. A device without which we can't dream spending a single second. It has become our personal assistant. The smartphones if synced with our official enterprise account helps us to receive our official emails, check tasks, daily schedules and also download attachments and review the same in case of urgency. Android market has several such applications to enhance your productivity. In fact apart from Android, other market such as Blackberry and also Windows have similar productivity tools and applications.
Tablets: In recent years the tablets have gained popularity owing to its portability and size. Tablets can assist you to browse and read through your important documents, edit your presentations and also participate in conference calls. Unlike smartphones, the tablets are comparatively bigger so they don't strain your eyes. They are also easy to carry.
Netbooks: Netbooks are the notebooks which were released in the market for people who travel most of the time. Netbooks comes with a basic configuration through which one can browse internet and download important attachments and emails. It is smaller in size as compared to notebooks and laptops with 10 inch screen sufficient enough for anyone to finish their important office work. Some companies also give away netbooks instead of notebooks so as to cut down on the costs.
Notebooks/Laptops: Ever since its inception, they have proved to be the most effective systems in assisting for official work. Unlike personal computers which are bulky and impossible to carry, notebooks and laptops can be carried and comes with a configuration similar to these bulky computers. The notebooks/laptops have now replaced personal computers as heavy tasks of programming and multimedia are also possible through these laptops and notebooks. Only thing one has to take care of is selecting a decent configuration based on the actual requirement to deliver the best performance.
The above gizmos are effective provided one installs suitable applications and software as per the requirement rather than downloading everything that can eat up the space. One has to decide upon the requirement and accordingly configure the gizmo to work at its best.