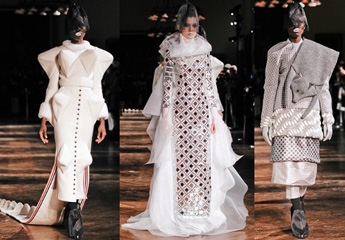 Fashion is not something that exists in dresses only. Fashion is in the sky, in the street; fashion has to do with ideas, the way we live, what is happening…
If you ever travel back in time, you would be surprised to see evolution of dresses, hairstyles, makeups and much more. Things which were fashionable at that time, which made people go crazy of different eras, may sound ridiculous these days to many particularly critics.
Pharrell Williams rightly said "Fashion has to reflect who you are, what you feel at the moment, and where you're going."When a particular trend is in fashion, people start following it without even releasing whether it suits them or otherwise. A particular hairstyle may be considered as fashionable but it may not necessarily suit your face cut. A dress worn in particular style may be a hit thing, but it may not go well with your age or physique. Hence, it is necessary to consider what suits you before thinking of what is the "in" thing.
Here are few examples of weird fashions from yesteryear diary,
Mohawk hairstyle once thought to be weird and funky is now a fashion statement. Everyone from sportsmen to popular singers to ordinary people wants to wear this haircut. Not only has it been popular for ages, but it has also evolved into various forms like faux hawk, bi-hawk and others. Ponytails which stuck on heads of Japanese warrior may look a bit awkward but nevertheless are still admired. A lot of sumo wrestlers carry this haircut with a dash of style. The odd looking wig adorned by kings, presidents and politician were a big hit in past. They had become an unconventional style in royal court. Though, it is no more popular amongst commoners, still judges of several countries including Britain, Australia and India are seen to wear this hairpiece.
Sagging pants, glittering trousers, hobble skirts, bell bottoms and tight jeans are seen to be on and off in fashion. Something quite famous now is outdated five years down the line. Color changing clothes, monkey wash jeans are still popular today. A lot of our dressing is influenced by movie stars, models and other known personalities. These can either be long lived or disappear very soon.
Ear, nose or tongue piercing has been gaining popularity amongst men and women alike. Once thought to be an odd style especially for guys, is now considered to be cool. A lot of college goers like to flaunt their pierced ears or chin and deck it up with colorful ornaments. Few people may still hate this look, but there are lots of admirers as well.
Remember "Style is very personal. It has nothing to do with fashion. Fashion is over quickly. Style is forever." So rather than fashion pay more attention to your style and set your own trends.