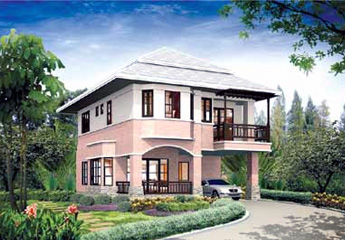 There is nothing like staying at home for real comfort. Each one of us seeks comfort and love at home. And an ideal home should provide for our needs. With growing times our needs have changed, and several things which were once a luxury are mere necessity now. Our needs can be infinite but an ideal home needs few essentials. Following are simple ways to plan an ideal home.
When you search for a new house certain things are very important – whether you want a big house or a small one depending on your family size, what type of kitchen would you prefer a countryside one or a modern one depending on space, affordability and personal choice, if you are someone who loves gardening, you would surely like to go for homes which have small gardens besides, similarly do you want a separate room for any of your hobby – a reading room, a room with music system or a in-house gym. We design our homes after considering all these factors. Let's see what all is needed as per our rooms.
Kitchen – Your kitchen area is of prime importance. Here is where you cook your food and this is often the hub of house. The color of walls, appliances, layout and maintenance are few points to be considered.
Ensure you have sufficient space between your cooktop, sink and other appliances and the distance between these should be 12-23 feet, to ensure everything is always reachable.
Select the appliances you need carefully. Try avoiding duplications. Get appliances that can be used for multiple tasks like consider buying a food processor instead of mixer as it does the function of mixer as well.
While choosing cabinets go for the ones which are easy to clean, durable, require low maintenance and have ample of space to store your utensils, small appliance and food stuff.
Your kitchen floor bears a lot of abuse so make sure you select the one which is durable, easy to clean, comfortable and of good appearance. Wood floor are natural and warm and look beautiful almost anywhere. However, tiles and cushioned sheet flooring need less maintenance.
Your kitchen should have enough workspace. The length of your countertops, its material, and lamination are important. Stones and tiles are less costly but not much durable. While, granite, marble and slate are both attractive and durable. Ceramic tiles are also a good choice.
Living Room – Living area is a place where you spent quality time with your family, friends and relatives; hence it should be appealing to eyes alongwith being comfortable and relaxing.
Determine the layout of stuff you plan to place in your living room. It could be television, sofas, chairs, a coffee table and well-made rug.
Chose your furniture depending on the space. Do not make it crowded and difficult to walk through. However, take care if you have enough sitting place and throw pillows around for comfort.
Light plays an important role in deciding the ambience of the room. So make sure you select good quality lights.
Chose decors with a mix of color and textures that inspire you. It would be a good idea to go for wall papers or wall textures.
Dining Room – Dinner table is where people come together. You might be hosting a party or a get-together or just a family dinner, this is place where you would be celebrating.
Your dining room could be a part of living room or backyard or a separate room completely. Select your dining table accordingly to avoid cramped look.
Select chairs which are comfortable and as per your need. You can have one with arms or an armless one, a long chair or small one.
Ensure you have enough ventilation and proper light in your room.
Dining room should have rugs darker in color and ensure your chairs and table can be placed comfortably on it without making them unsteady.
Placemats, napkins, table runners and table clothes add extra glamour to your room and also help keep it clean.
A small candle stand to enjoy a romantic candle light dinner and artistic cutlery are few other additions.
Bed Room – Your bedrooms are close to your heart and decorating a bedroom is a fun thing. Bedroom should always be cozy and elegant as they are meant to offer relaxation and peace of mind.
Bed is the basic thing that any bedroom needs. Depending on the size of your room and your need you can buy a Twin, Full, Queen or King size bed. A single one or bunker is good for kids.
A comfortable mattress which takes care of your back and prevents body pain is a must. Along with that enough number of good colored pillows, throwaways will make your room look better.
Nothing ruins a great morning than stepping on a hard, cold floor. So chose a nice and warm rug to be placed where you step.
A night stand next to bed helps place lamps, alarm clocks, a night time reading material and photo of your loved ones.
A nice vanity table and a dresser with simple drawers, shelves to place your clothes and other items should be present in your bedroom.
A theme can create a great ambience. You can chose a theme that makes your bedroom look romantic, or a unique theme that gives a feel of peace and openness or something else. Kids may like their favourite characters all over the wall.
Backyard – Backyards are an awesome place to grow vegetables, fruits and other important herbs. It also offers a good space to sit around in a pleasant environment.
Your backyard should have a proper landscaping so that you can use it to fullest and add glam to it.
You can decorate it with ornamental plants, or useful ones like those of fruits, leafy vegetable, few underground vegetables and important herbs.
With a table and few chairs placed in an elegant manner it can also serve as outdoor dining room or a drawing space.
Your background can also be designed to have a fireplace, a bonfire or a setup for barbeque to enjoy good time with friends and family
These are just a few suggestions to plan each room in your house. There are several options available in market and online along with huge list of innovative ideas which can turn your average home into a beautiful one. So learn about them, and use your artistic sense to create the home of your dreams.