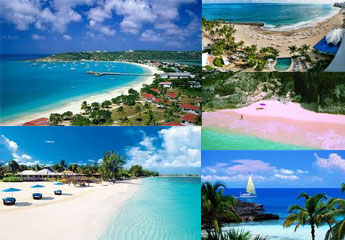 Want to experience beautiful beaches with crystal-clear waters and white or pretty pink sand, and of course corals and reefs? If so, then head to Caribbean beaches. Turquoise waves and sun kissed beaches are here to welcome you. The number of beaches along Caribbean side is many and they offer several adventurous activities as well. We have listed few of them.
Anguilla – Anguilla is a Caribbean hotspot for starlets and honeymooners owing to its beautiful beaches, awesome resorts, beach bars/restaurants and around 33 beaches along 16-mile stretch. Anguilla also offers seven marine parks and several divine sites where you can explore ship-wrecks, marine life and caves. Though all the beaches here are excellent, Shoal Bay is the most famous amongst them with 2 miles of pearl colored sand. If you wish to enjoy a relaxed and luxurious vacation, Anguilla is the best choice.
Turks and Caicos – For bird watches and scuba divers, Turks and Caicos have lot to offer. Vibrant coral reefs and wildlife and stretches of uncrowned beaches are something you would love here. The sea is full of colors, thanks to the diverse collections of creatures and the bird sanctuary houses several beautiful birds on an uninhabited French Cay. Snorkeling, surfing, swimming, sunbathing and shopping are few other activities that can be relished here.
Puerto Rico – Puerto Rican beaches are popular for their crystal clear water and golden sands. San Juan, Isla de Vieques, Rincon, Humacao, Fajardo and Carolina are few famous beaches here. Marine wildlife and breathtaking scenery accompanied with sports like boogie-boarding, surfing and kite surfing would please even the pickiest beach-goers.
Bermuda – Bermuda beaches are famous for their pink sands. Wide stretches of pink sand and blue waves along the 21-mile island is enchanting. Swimming at Elbow Beach, Horseshoe Bay or snorkeling at Warwick Long Bay and fine dining at Bermudian restaurants are surely not to be missed. All the beaches along Bermuda are known for their postcard beauty and worth visiting for all beach lovers.
Bahamas – Brilliant shorelines, pink to crystal sands, blue water and spectacular diving give the beaches in Bahamas a special prestige. Bahamas beaches are most sought out romantic gateways as well as a popular destination for nature lovers. Nassau, Freeport, Paradise Island and Harbour Island are few widely visited beaches here. Nassau is particularly famous for diving just off the shore with visibility up to 100 feet and the Blue Hole which is 100 feet across, 200 feet deep and is full of large school of fishes. Bahamas beaches have lot to offer and will surely give an unforgettable experience to every visitor.