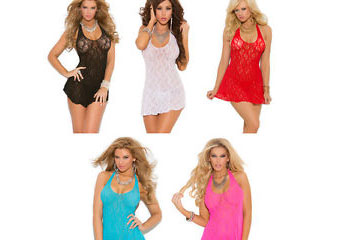 Christian Dior once said, "Without foundation there can be no fashion", and he is so correct. The lingerie you select is of key importance for any cloth to look good on you. It provides the foundation upon which your entire style relies. Also, this second skin makes you feel comfortable and at ease. Hence it is necessary to select your undergarments carefully as they can spoil or make a look.
Buying lingerie which best suits your size and shape is not an easy task. Nevertheless markets are flooded with undergarments of different designs and style, variety of material and cost. Here are few tips to consider, while selecting lingerie:
Comfort – Do not confuse fashion and comfort. Fashionable lingerie may be a market trend but might not make you feel at ease. Select undergarment which are comfortable.
Fabric quality – Quality of the fabric is very crucial. Select a fabric that best suits you. Cotton is generally preferred as it is easy to breath, absorbs suits and easy to clean as well. Other fabric options are Lycra, microfiber, silk, cashmere and high quality polyester. Your lingerie is close to your skin all day long, so never compromise on its quality. A good quality fabric will not only provide comfort and hygiene but also will last long.
Size – Make sure you select the right size. Your Bras and underwear affect everything you wear. Too lose undergarment make you feel baggy while the tight ones cause uneasiness. If the shopkeeper allows you to try one, feel free to do so. Also, measure your size before you go for shopping undergarments.
Cuts – Select the cut that works for you. Both underwear and bras come with different types of cuts, you should select the one which feels comfortable. Bra cuts include strapless, cross-over, demi-bra, front closure, halter, seamless, underwire and padded ones. While for underwear it is G-string, thongs, boy shorts, lose pants and few others. Depending on your outfit and comfort you can chose any of them.
Colors – Well, this is much of a personal choice and it also depends on your outfits. You would surely not want to wear a white bra while flaunting a black dress. It is better to have a wide range of colors available with you to go with your dresses.
Cost – Keep in mind the cost factor as well. It is better to compare the prices with different retailers prior to purchasing. There are several options available at varying cost for undergarments, select the one that takes care of your budget without compromising on quality.
Apart from these basic tips, there are few other points you need to consider depending on your outfit and body shape:
Make sure your bra fits in securely and your bust is contained within the cup, especially if you are wearing a tight fitting top.
Seamless bras are good for t-shirts or lose fitting tops, lacy ones are good if you are wearing see through tops and the lose ones are meant only for bedrooms.
Select the color of your lingerie carefully. Red and black are bold colors and look good on beaches but may not go well with light colored dresses. Skin colored lingerie goes well with most of the colors, while white blends with few.
Like bra, knickers also have to be chosen carefully. G-strings are fine for trousers, while high waist do wonders when worn under tight fitting dresses.
Always buy a size bigger than your dress size as they make you feel comfortable and do not cause rashes by rubbing against skin.
Most of the people believe in using same type of undergarments for all occasion. But lingerie, just like our outfits is occasion specific. Lingerie worn at a beach is entirely different than those you wear at gym. Make sure you select lingerie as per the purpose. While selecting bridal lingerie you need to put in extra efforts. For the function day make sure you get something which is comfortable. Consider your gown and decide on the bra accordingly to avoid showing off the straps. You can also add volume to it. You can consider wearing pantyhose with built-in underwear which gives a smooth look. And of course for your wedding night try something flirty with lace, bold color and sheer fabric.
Organic undergarments are widely preferred these days. These types are free from chemicals, dyes and bleaches and hence do not cause any skin problems. They are quite a relief for women with sensitive skin.
Taking care of lingerie is also important to maintain proper hygiene and comfort. Here are few tip how you do it:
Remove tags from underwear after purchase. They can cause itching or rashes especially on sensitive skins.
Always wash your new lingerie before using it, even if it is from a known brand. This helps in getting rid of chemicals that may be left behind as residue.
Wash your undergarment thoroughly with soap. Avoid putting them to washing machines, as it can cause the wires in bra to break, thus rendering them useless.
Always wash your dark colored and light colored undergarments separately to avoid spoiling colors of light ones.
Remove buckles or any other detachable before washing.
Use a mesh bag for storing and keep your bra, panties and socks separate.
Never spray any scent or deodorants on your undergarments.
Replace your undergarments routinely. Bras – 3-6 months, longer if you use them in rotations. Underpants – 6 months.
Remember your lingerie is close to your skin and on you for the entire day, hence proper selection and maintenance of undergarments is crucial to prevent infections, maintain hygiene, avoid rashes and offer comfort. It is as important as your attire, so spend time on money on selecting it carefully. Strategically selected undergarment can make a great impact on your shape and make your assets look curvier. Use good quality and comfortable undergarments which make you feel relaxed and awesome.