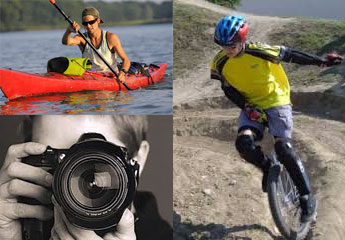 Hobby – as per the literal definition is an act which one can do at leisure or in free time and for enjoyment or relaxation. But has anyone of us ever wondered on making this hobby as our full time career option? Days are gone when hobbies were only considered as free time activity. In recent times, many individuals are pursuing their hobbies as professional career and have successfully created their mark in respective fields.
Making hobby as a full time career is good option as one would actually enjoy while working. In-fact the most frequently asked question in any career counselling is 'What are your interests?', so why not a hobby can be one's occupation? We need to break the rule that hobbies need to be separate from the occupation. If one has interest in painting as a hobby, it is wise and genuine enough to pursue the same profession and become a full time painter or artist rather than getting into a job or service which doesn't match your interest. Working on stuff which is of no interest makes the people complacent and as a result of which it may lead to boredom. On the other hand, pursuing a hobby which interests you the most can help you to ignite the grey matter and think of overcoming challenging situations. These things may help you to achieve new heights and become trendsetters in your own profession.
Next obstacle is finding and joining a firm who can explore your area of interest or hobby. If you get such an opportunity it would be the best thing to happen, however if you don't you can also became an entrepreneur and pursue your career along with helping others to pursue theirs. Who knows, this may soon become a trending trend in the market? Hobbies can be business plan for the retired personnel as well. Post retirement one can make use of his/her industry experience to pitch in with his/her area of interest and accordingly pursue what one likes to do. The point to remember is one has to be equipped with sufficient knowledge of market as today's market is quite challenging and competitive so as to survive the tough waves of turbulence and make the future journey smooth. Pursuing hobby as a career is nevertheless a viable and the best option as it would be your own niche and domain in which you are at your best.