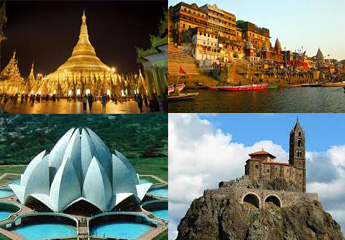 Death is inevitable. Throughout our lives we strive to achieve something or other, but when we are on the verge of death only content and peace of mind matters. There is a famous quote by Rabindranath Tagore – "Let life be as beautiful as summer flowers. And death as beautiful as autumn leaves." If you are granted a wish to enjoy last two days of your life, as per your desire, a lot of people will select different places depending on their personality, choices and their state of mind.
For those seeking spirituality, Shwedagon Pagoda in Myanmar; Lotus Temple or Ghats of Varanasi in India; Saint-Michel d'Aiguilhe Chapel in France; Basilica of San Vitale, Italy; Boudhanath in Nepal and Mecca, Medina and Karbala are few places to visit based on your faith and religion. These places connect you to your conscience and bring peace of mind.
Nature offers you peace and calmness of mind, and gives you divine experience. Breathtaking places around world attract nature lovers and bestow on them the abundant beauty. Galapagos Island in South America, Glass Beach of California, and the mighty Himalayan ranges, and several places in France and Italy or Switzerland are few most sought after places to name. Some other uncommon but spectacular places would be Tulip fields of Netherlands, Red Beach in China, Bamboo forest of Japan, Lake Hiller and Lavender fields in Australia. This list can be indefinite as the choice of place would depend on your liking.
Most of us would want to be surrounded by our families when we breathe our last. So, a family outing with your kids, grandkids and loved ones can also be a choice. Such places are many, and can range from snow parks in Dubai to Disney World in California or Japan. Visiting Egypt, Malaysia, New York, Switzerland, UK, Japan, Hong Kong or any other place around the world can be on your list.
All of us have a dream destination. Sometimes we can enjoy it at an early age and sometimes we have to wait for long. However it is never too late to achieve your dream. You might have dreamt of dancing on Hawaiian beaches or gambling in Las Vegas, you might have desired to take a Jungle Safari in South Africa or a cruise trip across some sea or something else. Well, there is still time and you can fulfill your dreams now.