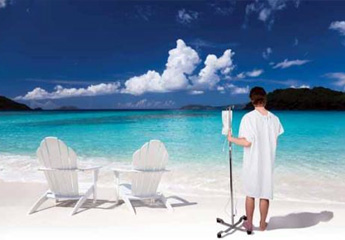 Medical costs are appreciating day by day. A major share of income or saving is used up during a medical emergency. Right from checkups, surgeries or other treatment to cost incurred on hospital stay, the prices have grown enormously in past decade or so. Medical tourism or health tourism is a lucrative option to those trying to save few bucks while getting the best treatment.
In the past people had been travelling from underdeveloped countries to developed ones for medical issues, however the recent trend is to travel to less developed countries in order to cut down on cost and yet receive better healthcare. People from countries like USA, UK or other European nations travel to other countries especially to cut down on cost and lessen the waiting time. In these developing countries, many surgeries are done at nominal cost. Several surgeries like orthopedic, dental or cosmetic which are not covered by insurance are done at fractional cost here. Many people prefer to do various assisted pregnancy procedures including IVF and surrogating in popular medical tourism destination owing to lesser cost and lesser hassles involved in it.
Though medical tourism seems to be a good option, it does have few disadvantages. Various countries have prevalence of different infectious diseases. People visiting from developed countries may not be immune to them and can contract it easily. Several gastro intestinal or air-borne infections can delay the actual treatment or surgery that was sought. The quality of post operative methods can be different than expected, and also travelling long distance after a surgery or extensive treatment can lead to complications. Ethical and legal issues might be different from the home country and can cause complications. Also, insurance may not cover some of these treatments. All these issues combined together will increase the overall cost of health care services.
By taking few measures, most of the problems arising as a result of medical tourism can be tackled. Planning your trip well in advance gives you enough time to explore best options and learn more about the medical facilities in the visiting country. Also vaccination if any required can be taken before journey. Make sure you have your legal and other documents handy before you leave. Arrange for follow-up care with local healthcare professionals before you leave and carry all your copies back with you.
Destinations known for medical tourism are Jordan, South Africa, Brazil, Costa Rica, Mexico, India, Hong Kong, Malaysia, Thailand and few more. These popular locations along with providing best healthcare services also offer beautiful relaxation option. Medical tourism is gaining popularity and is sure to draw a lot of patients from first world countries to developing ones.